Early Years, New York State
Judith and Charles met when she was finishing up her time as a student nurse at Bellevue in New York City, just a couple of years after the end of WW2. He had been dating her roommate. With approval from his headshrinker Dorothy Block, they went ahead with the wedding. Martha (who later renamed herself Marthe) was born in 1948. They built a state-of-the-art modern house in Croton-on-Hudson, a politically progressive community, mostly Jewish.
In 1952, they sold the Croton house and moved to Danskammer Farm near the tiny town of Roseton. The nearest city was Newburgh, NY. The farm was fifty acres on the western bank of the Hudson River. It had been named by Henry Hudson a century earlier when, sailing up the river, he saw Indians dancing on a rocky prominence there. Danskammer is Dutch for dance hall.
In the 1950s, the farm was run as a collective by Les Rice, a pianist, and his wife Nancy Armstrong Rice, whose family had been deeded a large area of land by general Washington generations earlier. They grew chickens, apples, beehives, cows, pigs, and decision-making was by the collective. Marthe sometimes collected the eggs. In the 1970s the farm was seized by eminent domain for the expansion of Consolidated Edison's coal power plant and all the buildings -- including the pre-Civil War Armstrong family home -- were razed.

I (Dan) was born in 1954 in St. Lukeís Hospital in Newburgh. Katy was born in 1957 at Lenox Hill Hospital in New York City. While awaiting our respective births, Charles would roam the hospital making sketches.
At Danskammer, Charles and Judy were involved with the farming until Charles built himself a painting studio. It was for me a place of refuge and tranquility. I associate the aroma of the Revelation brand of tobacco that he smoked in his pipe.
Summers were spent on Martha's Vineyard that was at that time a funky backwater. Later, in Italy, they "discovered" an equally charming island (Giglio, see below) for inexpensive summer sojourns and the tradition continued.
Judy taught nursing at a University in New Palz, and was involved with the PTA at Roseton's four-room elementary school. Marthe remembers that the principal, Minnie Frazer, made the kids use the out-house instead of the newly-installed indoor plumbing. She thought they were all savages, not just the black kids, but also poor white kids who didn't have indoor plumbing at home. Judy was instrumental in getting her fired for using Catholic text books for science. Marthe's schoolmates called her a commie nigger-lover which she thought was a term of endearment until Charles explained otherwise.
Politics
McCarthyism was in full swing. Les Rice was a comrade of Pete Seeger. Pete and his wife Yoshi lived in a log house they built in Beacon on the other side of the Hudson from Danskammer. They had no plumbing in those years (did Mrs. Frazer know?) and Yoshi fetched water in buckets from a stream. We all would get together for hootenannies to organize the farm workers union. Around that time was the infamous Peekskill concert where Paul Robeson sang, black and white concert-goers were stoned (not the good kind) by local vigilantes, and Charles had to drive fast to escape while car windows were smashed as the state troopers (many of whom were Ku Klux Klan) stood by.
Charles and Judy's passports were confiscated. When the passports were returned in 1961 they decided to move abroad for a year. They sold their car, packed some steamer trunks and we crossed the Atlantic aboard the SS Atlantic. The crossing took eight days and to us kids was glamorous and exciting. Our dining room waiter was named Roy and I was awed by his seaman's uniform.
Italy
Since the plan was to return to the USA after a year, Charles and Judy put us two elder kids, then aged seven (me) and fourteen (Marthe), into an American school in Rome. Katy, aged four, went for a year to an Italian preschool where she learned to spell phonetically as it is done in Italian, and has had interesting English spelling ever since.
When that year ended, Charles and Judy said, "We're starting to learn Italian and we just found a good apartment. Letís stay another year." That stretched into twelve years. I grew comfortable with the culture of Italy, and -- many years later -- I regret that I had not attended Italian schools. It was a wonderful childhood nonetheless. My academic life was in English and my social life was in Italian, as I had more fun with Roman kids than with the oddly isolated and insular American ex-pats, oil company families (we called them Aramcons) and army brats.
Starting in the mid-60s, we would spend a month each summer on the island of Giglio in the Tuscan Archipelago, later the site of the horrific grounding of the cruise ship Costa Concordia. (I took this photo myself many years prior as it made regular, dramatic (because of its size) transits.)

In 1968 we were joined there by Grandma Celia who had come to Italy for my bar mitzvah. "That boy is already fourteen!" -- she was horrified and my secular parents acquiesced, to my chagrin. It was held in the majestic Great Synagogue of Rome. She loved Giglio's tiny, perfect beaches as did we all. Charles bought a 25-foot Dutch steel sloop (four bunks) and resumed the sailing he'd loved as a boy when, growing up on Long Island, he'd had a centerboard daysailer he'd named the Swoose. The sloop was named Jaboatao by its previous owner for a polically progressive town in Brazil.
Charles would cajole us to join him on his adventures. He could make it from Fiumicino (Rome's port) to Giglio, barely. On one such expedition he was joined by family friend Jacques Bahbout who was walloped by the swinging boom and would not sail with Charles again. Nonetheless, Jacques learned to love Giglio and when he made millions launching McDonalds in Italy he built a near-palace there and to this day generously hosts us when we visit.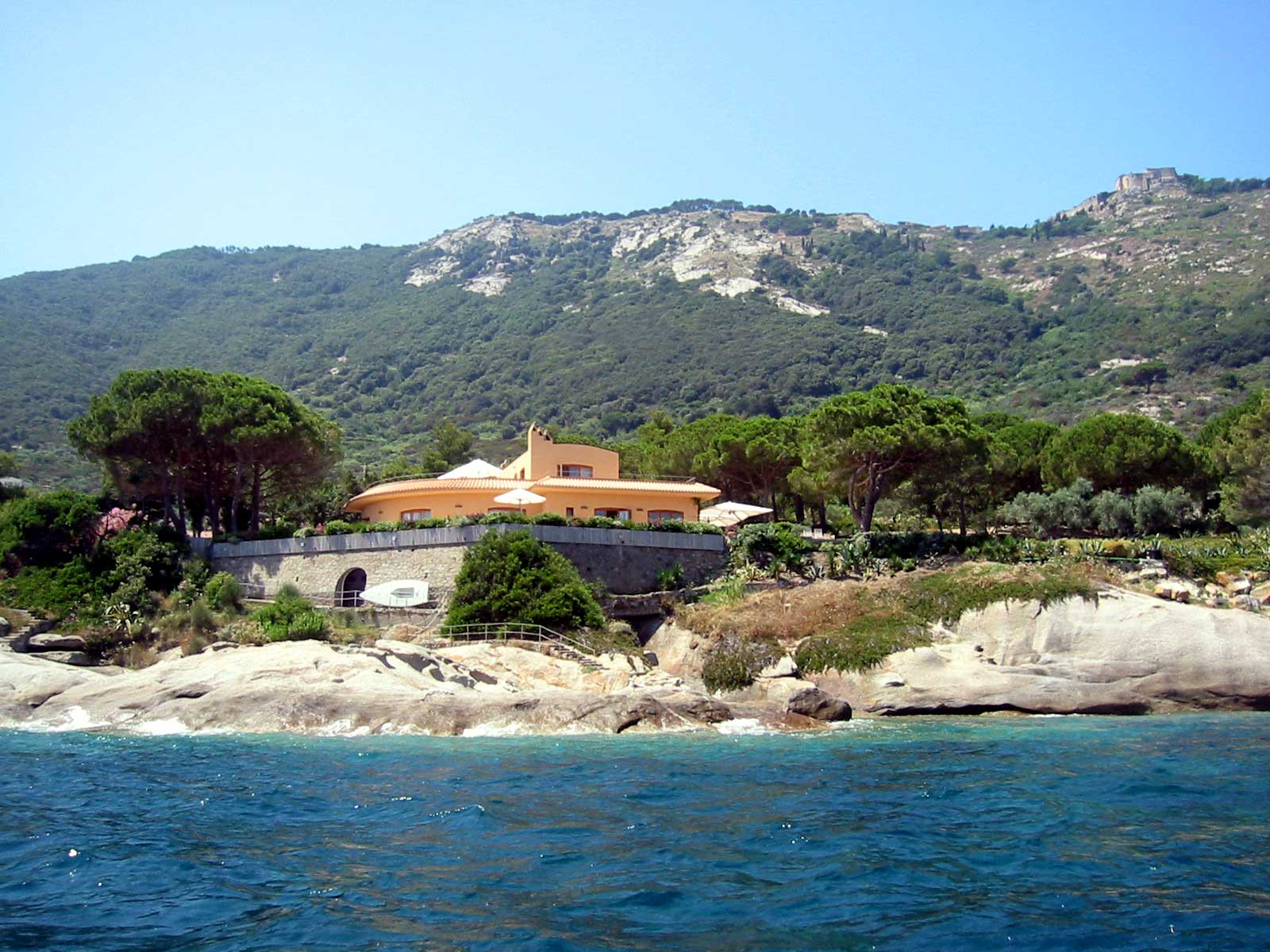 During high school, I worked after school dubbing (adding voiceovers in recording studios) Italian "spaghetti westerns" (shot in the deserts of Sardinia to look like Texas) into English for the American market. My boyhood voice is in hundreds of mediocre movies. The money I earned bought motorbikes and electric guitars. I was in a rock and later jazz band with some Roman buddies, and my social life was largely in Italian or, more precisely, Romanaccia, the street argot of Rome.
The good apartment (that contributed to Charles and Judy's decision to stay in Rome) was at 89 Via del Gesu (Jesus Street) where we lived for twelve years. Fortunately, they had decided to buy not rent, and it was one of the few good financial decisions of their lives. Two blocks to the south was the Roman Forum and a block to the north was the Pantheon. By the time they sold it, Italy had emerged from its postwar doldrums and Rome real estate had become expensive. The apartment was palatial, in a 300-year old building, with marble floors and a Rube Goldberg system of radiators that burst in the first year and ruined all our books and furniture.
Rome: Art and Politics
A couple of blocks away was Piazza Navona with Berniniís famous fountains. Beyond that was Via di Monte Giordano, a narrow cobblestoned street where, at number 5, Charles rented a studio. I enjoyed visiting him there and the odor of the turpentine with which he thinned his oil paints (and of that Revelation tobacco when he could get it) always brings me back to that magical place, with its antique octagonal floor tiles and five flights of stone stairs worn at their centers by centuries of climbers. Among other themes, he produced a series of paintings he called "Mammismo" (in English, "Smotherhood") and had exhibitions in galleries in Rome and around Europe. It was a productive period in his career.
He continued his political activism and co-organized with Gore Vidal and others a couple of anti-Vietnam War demonstrations. Meanwhile, the parents of some of our school chums worked for the US Embassy and the CIA and our phone was tapped. It was a heady time.
Return to the States
The first of the family to forsake Rome, Marthe graduated from high school in 1966 and left for college in Boston, where she lived with Celia and Harry for her first semester and commuted to school with Shirley and Mickey, bearing a "bulky" sandwich. In her second semester she moved to an apartment on Commonwealth Ave. Every week there magically appeared on her doorknob a shopping bag from Grandma Celia with a roast chicken and a home-baked coffee cake in it. Grandma was a wonderful cook.
Around 1970 Charles and Judy separated after a stormy Roman-style saga. Charles had had some affairs. Enraged, Judy chopped up his best paintings including some scheduled for a major exhibition in London. With much of the work destroyed, he canceled it. In retrospect it seems silly how angered and ashamed they both were by this episode. They kept it secret for years. Not even the London gallery was told the reason for the cancellation. Eventually, they each moved -- separately -- back to NYC.
Charles rented a studio on Union Square and later on East 6th St. in the Lower East Side where for years after his death in 2006 we stored and displayed his work. Some can be seen on his website. Marthe and the studio manager, Tracy Zungola, in 2014 made a sale and donation of Charles's political cartoons and papers and over a thousand drawings to the Tamiment Library of NYU where they are available to scholars and others.
I graduated high school in 1972 but didn't want to leave "la bella Roma". Judy laid down the law: I could stay but I had to work or go to school. So I attended "Grade 13". The extra year paid off. I studied with a brilliant teacher, Neil MacFarlane, who taught me physics and Fortran. At night he played piano in a seedy bar (the "Red Banjo" that we dubbed the "Red Bunghole") not far from the US Embassy. I would drink screwdrivers (Italy has no drinking age) and wait for him to help me, between his music sets, with my assignments. Learning computer programming was life-changing and became my career. In 1973, I left Rome for college in California. Alas, Neil's double life proved too much for his 38-year old body and a year later he died of heart failure.
Katy attended Rosella Hightower's ballet school in Cannes where she did her high school in French. She also went to ballet school in London. Wisely foreseeing the limited potential for a career as a ballerina, she did her graduate work in physical therapy at Columbia University in New York and Nice, France. She later married a lovely Frenchman and lived in Antibes for several years. Her career as a physical therapist included for decades the New York City Ballet and later the Juilliard School.
In 1974, Judy sold the Rome apartment and, with Katy, moved to New York City where she rented an apartment on West 12th St. Katy attended the UN School in New York for her last two years of high school. Like me, Judy, had done some dubbing work (as an assistant director) and that experience lead her to make movies and write plays. She distributed her films from her Tricepts Productions studio and home on 12th St. until her death at 91 in 2017.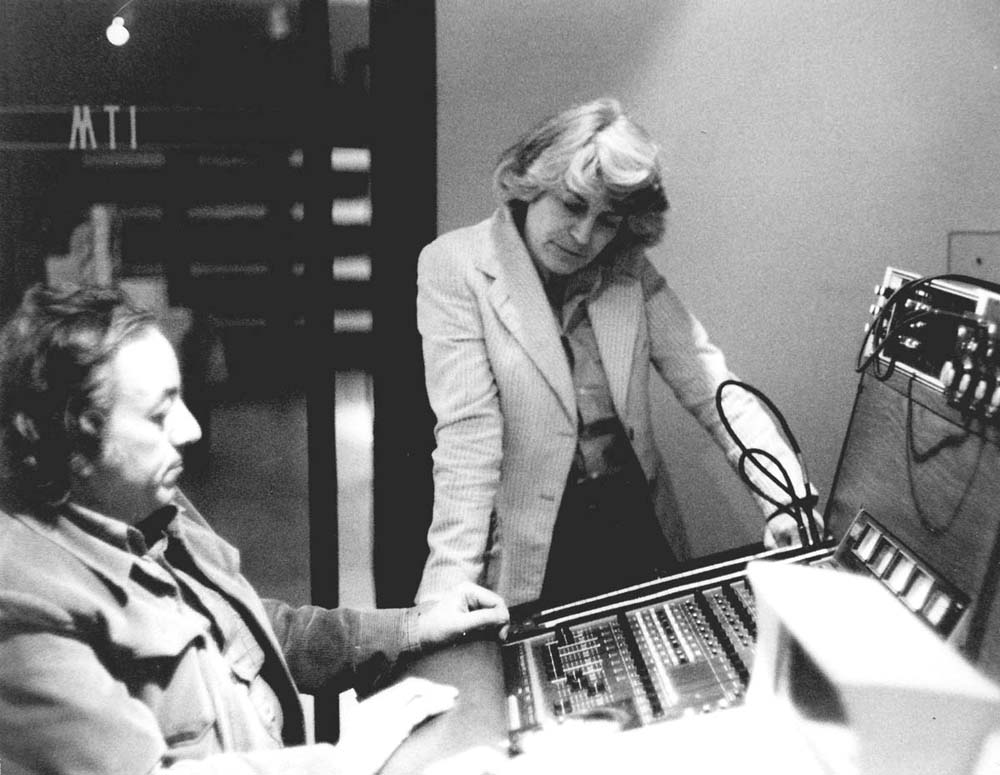 Thus, the last of us having finally straggled back to the USA, ended the 1961-1974 Rome phase of the life of the Charles Keller family. We had a one-year revival when in 2008-2009 I returned for a year with my children, Cara and Alexi, to introduce them to Rome and Italian culture. They attended St. Stephen's school, that Marthe and I had attended fifty years before. They loved Rome. Alexi skateboarded through stupendous antiquity on his way to school, as Katy had jumped rope there many years earlier.
The Sad Story of Juanita Piccoli
A related saga is that of the legacy of our friend Juanita Piccoli. Juanita and her husband Nemo were Commie artist friends of Judy and Charles in the 50s. During that decade, they moved to Italy and lived in Rome for years and shared a studio on the Via Margutta, a stone's throw from the famous Spanish Steps. As Italy recovered from the War and grew expensive, they were priced out of that classy location and retreated to the tiny (population 5,000) medieval walled mountaintop village of Anticoli Corrado, 54 kilometers northeast of Rome. There they acquired and remodeled a couple of houses and lived in one of them. It was literally on the edge of the village, atop one of the ancient walls, and had terraced gardens and a breathtaking view of the valley of the Aniene, a tributary of Rome's Tiber River. Their remodel included floor-to-ceiling windows on the top floor that they used as their studio.
With them lived their housekeeper of many years, Antonietta Tursi, an illiterate and aggressive country bumpkin from southern Italy. Juanita hated her and suspected her of dalliances with Nemo. Nemo, though, was devoted to her and insisted she live with them and keep house and she did so for many decades. Oddly, Juanita never troubled to learn more than what she called "kitchen Italian", enough only to convey shopping and cooking instructions. This would prove important as will be explained shortly.
The Piccolis suffered a terrible tragedy in 1955 when their sole child, John, died at age 16 in a wreck on his brand new motorbike, given to him by his doting father on his birthday that very day. Juanita never forgave Nemo.
In 1970 Nemo died and Judy assisted with the funeral arrangements. Charles and Juanita remained close friends for the rest of her life. Juanita would stay with him at his studio on East 6th Street during the winter months when Anticoli was cold and damp.
Inexplicably, Juanita had Antonietta stay on with her in Anticoli until Juanita's death on September 24, 1991. Juanita had been diagnosed with liver cancer while in New York six months earlier. She went to a lawyer before leaving New York for the last time and had her will drawn up. Her decision was to die in the Anticoli house she loved so well. Having no heirs, she wanted to leave it to Charles but, being in his seventies, he could not face the frequent travel and management headaches of a big country house on a distant continent. So Juanita left it to me. I remembered it fondly from boyhood and from adulthood visits, too, having returned several times in the seventies and eighties.
In August of that year, Charles booked Juanita a first class one-way ticket home with instructions to Antonietta to contact us when Juanita's health worsened. However, fearing that Juanita's passing would leave her out on the street, Antonietta had been making plans of her own. She did not realize that Juanita's elaborate will provided for her quite well. So she summoned from the neighboring town of Tivoli a woman named Giuseppina Rullo, known for her skill at extracting deathbed wills. Indeed, in the epic legal battle that ensued, we proved that Rullo had done this on prior occasions, robbing several families of their patrimonies. Rullo's technique was to pose as a nurse (in fact she was a lab tech at a Tivoli hospital and had no nursing training) and would coerce her barely-conscious dying victim to write, in precise, dictated Italian legal language (which, as noted above, Juanita could not have written on her own), "I renounce all former wills and leave everything to Rullo and Tursi." It was literally on a scrap of paper and its writing was not legally witnessed. Unlike US law, Italian law does not demand that wills be witnessed. As a result, these crimes are not unusual in Italy. Novels and even a great opera have been written on that topic.
We hired a lawyer and filed suit in Rome to have the bogus will annulled. We assembled witnesses including several who attested to Juanita's fading consciousness in her last days and neighbors who asserted that there had been no prior relationship between Juanita and Rullo and thus no reasonable explanation for such a sudden change of heart.
We arranged (and watched) Juanita's cremation. We maintained the house. Neither Rullo nor Antonietta could be bothered with such details. In the photo, Charles is beside Juanita's casket that is about to enter the cremation oven.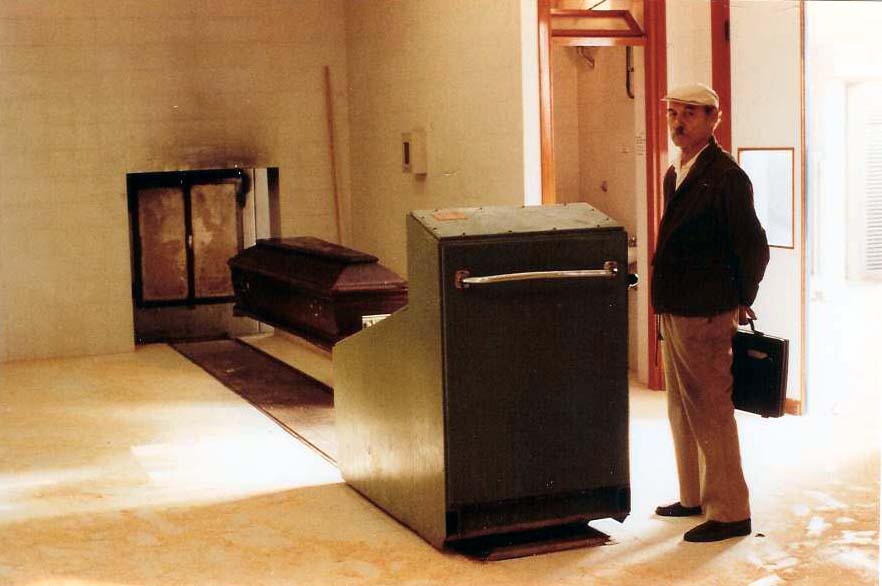 Often accompanied by Charles, I returned annually to Rome to meet with the lawyer and goose the case along. It was complex indeed. Along the way, I learned about the Justinian system of law -- very different from ours -- that is based on the English. After four years of wrangling we won. But that proved to be just the first skirmish in a war that lasted a full nineteen years.
Italians are quite accustomed to their labyrinthine and glacial systems, and endure them with remarkable civility, at least superficially. Antonietta knitted a baby blanket when Cara was born. She would meet with me and chat about the case. In her boorish manner and coarse southern Italian dialect she said, "Too bad for you. I was just more 'furba' (sly)."
One of many tragedies along the way was the disappearance of Juanita's substantial body of work. She was a painter of some note and had left racks full of canvases of her whimsical, colorful Italian landscapes, still lifes, and portraits. A university museum in the US had asked to show her work but the Italian lawyers nixed it. Each year I would inspect the house and arrange for its maintenance as it deteriorated. Antonietta was the only one permitted by the court to occupy it for reasons that never quite made sense, but didn't spend a lira (this was before Italy's conversion to the Euro) for its upkeep. That was left to us, and we did it. One year I saw that the painting racks were empty. No one seemed to know why. Juanita's artistic legacy had vanished.
The women appealed our initial victory and won, after another six years. So we appealed their appeal. The final, winner-takes-all arbiter, the Italian equivalent of our Supreme Court, was the Court of Cassation. There, the judge looked only at Rullo/Antonietta's evidence including testimony we had previously proven perjured, and not at ours. In 2010, the final ruling was issued handing the entire Piccoli estate to the two criminals. We are hard-pressed to attribute actual corruption or payoffs, but there was unquestionably bias. The Italian courts rarely find for non-Italians. There was nothing further to be done. The bad guys won.
On the bright side, annual trips to Rome with its cobblestones and silken cappuccinos were a lovely side benefit.
Today
Marthe returns to Italy every year to paint and for years ran an arts residency in Puglia, and another one in Cassis, France. See BAUinstitute.org for spectacular photos. In 2014, Katy and Marthe enjoyed a reunion with French and Italian friends and family in Cassis. We can't stay away from our European second home and will be forever grateful to our parents for introducing us to it.
-- Dan Keller, September, 2016
updated 2022