Max Mathews (1926-2011), Don Knuth
Max Mathews is recognized as the father of computer music,
having written the seminal works while at
Bell Labs in the 1950s and 60s.
He posited that computers could generate any sound.

Don Knuth is the celebrated author of the classic work,
The Art of Computer Programming, in which he
developed a taxonomy and vast catalog of software algorithms,
the Mix language, articulated much of the philosophy of programming,
and received the Pulitzer prize.
Celebrity does not rest comfortably on his shoulders, though,
and he would write only "+ don" beneath Max Mathews' autograph.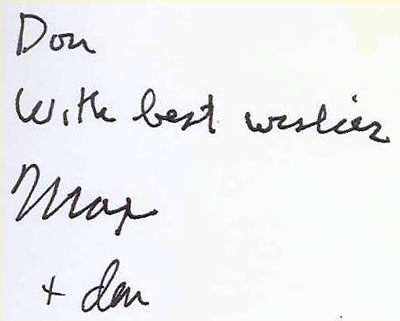 These autographs were signed at the 80th birthday celebration concert and reception for Max Mathews at the Computer History Museum in Mountain View, California, on March 29th, 2007, in my copy of Mathews' 1969 textbook, The Technology of Computer Music (MIT Press).
Also in attendance at this event was Guy, the son of Max, with whom by coincidence I had become friends years earlier when working at Hewlett Packard. Too familiar with his famous father's appellation, he wryly refers to himself as "the brother of computer music."