From: Judith Keller
To: dan
Subject: It's Auntie Goldberg
Date: Mon, 12 Mar 2007 09:03:16 -0800

It's Auntie Goldberg and my deduction is: Probably the reason you can't read the writing on the back is because the word "side" was wanted for "at the side of the house". However there was confusion as to how to spell side -- sight, site or side... English isn't easy to spell if you've never studied it, only learned to speak it by hearing it. I believe that may have been Auntie Goldberg's situation.
My father could speak English OK, but his spelling was not very good, like his pronunciation. My Mom was a proud and perfect speller. As the proof you have hanging in your stained glass "schul" indicates, she graduated from 8th grade. She was born and raised in Boston and did not speak Roumanian. She did speak Yiddish which was the only language her mother, born in Poland and raised in the shtetl, knew.
We all sat around the dining room table in Dorchester, doing our homework and helping to write my father's letters to "Margery Daw", the children's hat company he represented as a traveling salesman (ref. Willie Loman). These were horrible, wild sessions with fights about how he should word and spell his letters. We never seemed to get what he wanted to say and how it's said in written English to his satisfaction.
Re pic w. Simon: my guess is it's the side of the house where Auntie Goldberg lived with Uncle Boris in Somerville. A young Simon was visiting, perhaps a recent arrival from Roumania? Auntie G. is her usual, elegantly dressed self. I could go on and on. Each pic conjures up a whole life.

From: Ted Herman
To: dan
Subject: Re: who is it?
Date: Mon, 12 Mar 2007 13:17:07 -0400

Dan--
The lady in the photo is your great aunt -- Celia Goldberg -- The dog is Sunshine (only dog in America to have an opera dedicated to her) -- The place is Somerville, Massachusetts -- The camera is a 126 milimeter brownie reflex. The temperature that day was 78 degrees -- It was a Sunday in June 1959 -- The photo was taken at 12:30 PM -- I just don't think I can be any more specific
-- Best wishes --
Ted

From: Burton Herman
Date: Sat, 31 Mar 2007 15:11:36 EDT
Subject: Re: ice cream for Teddy
To: dan

In response to "ICE CREAM FOR TEDDY"... On Sundays we would get dressed up to visit Aunt Celia and Uncle Boris at the pharmacy. On the way, we were cautioned not to accept offers of ice cream and candy as they couldn't afford it. Seeing Ted at the soda fountain leads me to believe that it was one of the few times we were allowed to accept ice cream or whatever. Anyway, that's my commentary on the great photo of Ted... probably at the age of 8 or 9.
Always wonderful hearing from you.
Love to you and your family.
Uncle Burt

From: Judith Keller
Subject: Re: ice cream for Teddy & Boris' OPERA OPUS
Date: Mon, 2 Apr 2007 12:40:26 -0800

Ciao Dan,
I have the original LIFE'S SHADOWS, Boris' opera, including his illustrations, music and libretto. It's quite corny music and libretto. I was in process of xeroxing the whole thing. I'm about 1/2 way through. It'll take a while for me to get back to it. Do it at my friendly neighborhood copy shop, but they have changed their system. Then I was planning to get an archival box in which to stash the original.
LIFE'S SHADOWS is an interesting project from the p.o.v. of the following: Boris composed the whole opus on his violin in the back of the drug store. He could not afford music paper, so drew the staves and of course hand-wrote all the music and lyrics and drew illustrations of the stage sets. Auntie Goldberg believed in his talent and supported him all the way, including trying to peddle it (an interesting part of the story to be elaborated upon).
Don't know what the few customers coming in and out of the drugstore and the bookie who picked up the numbers from Auntie Goldberg thought of the strains of violin coming from the back room. The illegal numbers game called the "nigger pool" -- you should excuse the expression -- helped bring in customers and the bookie who bought cigarettes and maybe a soda from the fountain. He also had small pads of paper which he left around and we kids liked that we could keep them. They were perfect for the "Moishe Pupiks" Grandpa Harry made.
Much more to say about the life in the drug store front and back room during the Great Depression. Will send you some selected pages from LIFE'S SHADOWS. Or perhaps a whole xeroxed copy, I hope in the not too distant.
Shirley visiting now. We had an abbreviated seder last night at Paul & Jimmy's Italian restaurant. Coltino asked and answered the all-important question: Why is this night different from.......?
Love and Happy Pesach to all,
Mom
...In that email, I responded to your question, who was in the pic with Cousin Simon. Went into a fulsome, detailed description of life as it was lived then. These pics conjure up extensive memories, moods, and atmosphere. Explained that while the Roumanians (Romanians) spoke English they learned it by ear. So how to spell "side" for "at the side, sight, site of the house". Also went into the difficult and explosive scene around the dining room table trying to help G'pa Harry write his letters to Margery Daw, the children's hat company he represented in his Willie Loman traveling salesman, depression days, as we did our homework. We never did seem to get it right -- to say what he really wanted to say, which was unsayable and unspellable. G'ma Celia was born and bred in Boston, and, as your stained glass "schul" attests, she graduated from "grammar school". She was an excellent speller but would Harry listen?
Enjoyed Ted's response. I never knew that Boris had dedicated his opera, Life's Shadows, to Sunshine. Boris and Celia's dogs were almost always named Sunshine, but I think perhaps there was a Rita.
-- excerpted from a letter from Judith Keller
dated 13 March, 2007

From: "Judith Keller"
Subject: Re: Herman archive
Date: Tue, 5 Jun 2007 07:30:27 -0800

So much more to say and write. One arena, living in Auntie Golberg's and Uncle Boris' attic during the Great Depression '30's...
Uncle Boris was the local doctor. Held sessions with patients at the round, ice cream parlor marble-top tables and typical chairs. He concocted Rx meds for each patient from his store of herbs in the back of the drug store, grinding them with his mortar and pestle, when he wasn't working on his opera. Larry has some original labels for one he brewed. Today, Boris would be popular with the natural herbists. Then his community was poor white Irish and African- American.
I'll describe Auntie Goldberg's (so-called, to avoid confusion with Ma, both of whom were named Celia) apartment in whose attic we lived for a couple of years during the height of the Depression when I have a little more time. It involves an organ, 26 canaries, and two enormous goldfish aquariums. Boris did not like children, so we kept out of his way and vice versa.
There's much of interest to be said about the Depression era, including Pa's working for Mayor Curley, Boston's Robin Hood corrupt mayor, beloved by the poor folks.
Uncle Boris and Auntie Goldberg -- as told by JHK on 6/24/2011
In the Depression, Celia and Boris Goldberg had a drug store. The store was in Cambridge, on the corner of Hampshire and Windsor, I think, I'm not sure. They were so poor they had almost no inventory. Auntie Goldberg would put one box of Kotex on a doily in the center of each shelf so it wouldn't appear empty. Nobody bought anything; nobody had any money. Except the bookies, who played what they called the "nigger pool". A bookie would occasionally buy a pack of cigarettes. Auntie Goldberg would write down their bets on a special block of paper. The kids loved to get those blocks of paper.
When Auntie Goldberg and Uncle Boris could no longer afford the rent on their apartment, they had to give it up. They moved into the back of the store. This embarassed them. They didn't want anyone to know. At closing time, they would put on their coats and hats, turn out the lights, go out the front door of the store and lock it, and walk through an alley and in to the back of the store where they had a cot to sleep on.
Uncle Boris became the community doctor and mixed potions of his own for patients who came every day. Nobody could afford a regular doctor.
Auntie Goldberg really believed in Boris and when Eddie Cantor came to Boston she tried very hard to see him and get him to read Boris's opera. I don't know whether she succeeded.
The Herman men have a proud history of military service.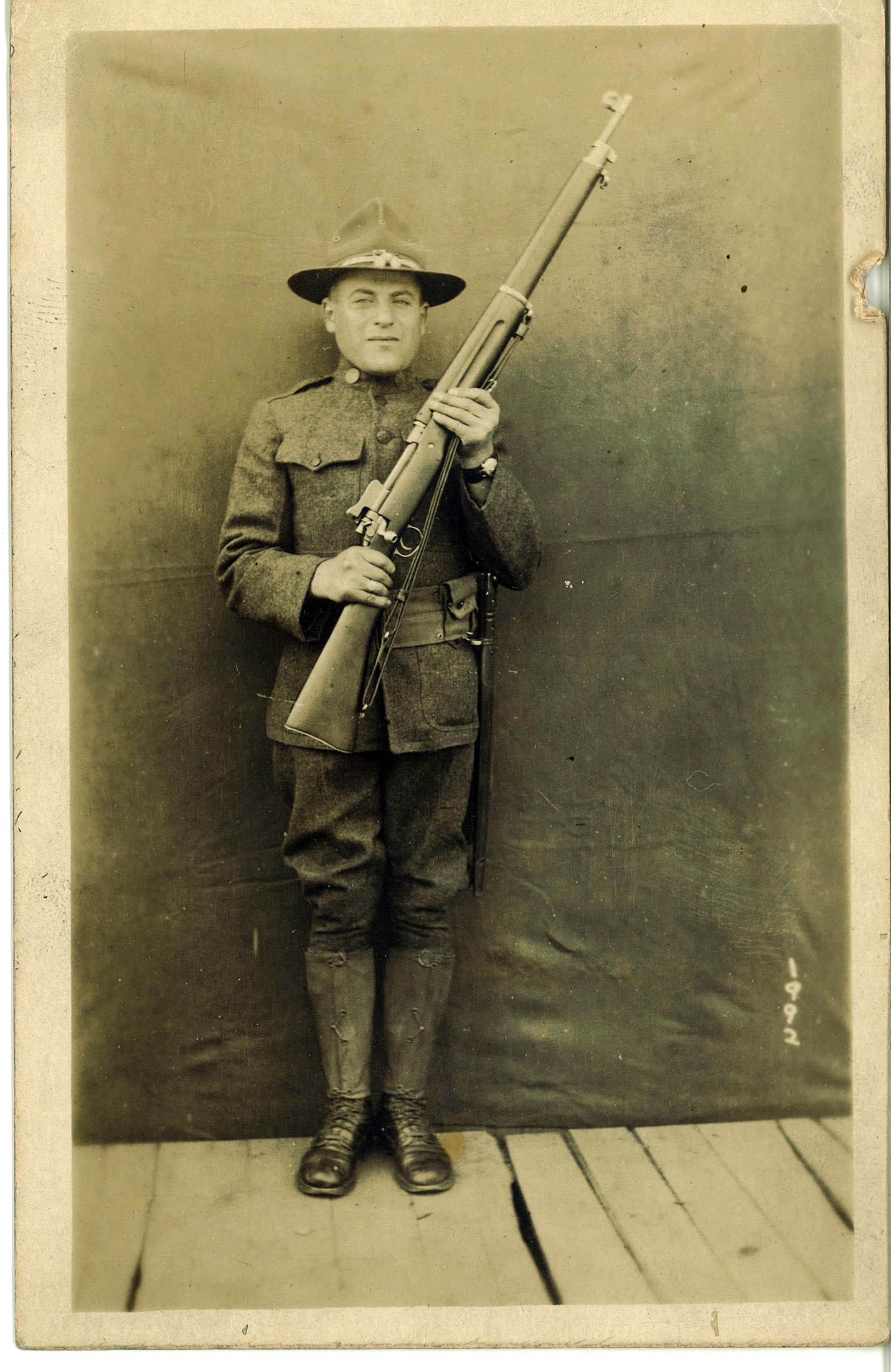 Harry in WWI


Ted in the Marines at Quantico