| | | | |
| --- | --- | --- | --- |
| Dickens to steal Shakespeare's spotlight in upcoming fall play (9-06) | PDF | | Print | | E-mail |
Written by Noey Neumark and Lucy Taylor
Actors are rehearsing for the fall play, which will run Nov. 2 to Nov. 5 in the Carol Channing Theater.

English teacher and play director Teresa Bookwalter chose to stage Nicholas Nickleby in order to accommodate a large enough cast to "give as many people a chance to be on stage as possible," she said.

To switch the tone of last fall's comedy, Shakespeare's A Midsummer Night's Dream, Bookwalter chose a more contemporary play for this year. It is also a lesser-known play with which the students are not as familiar.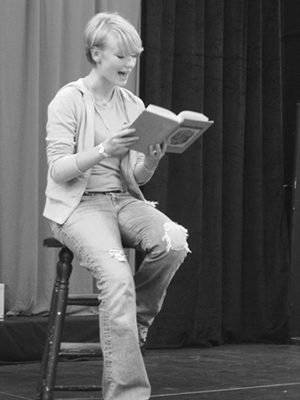 JENNIFER LEE
Freshman cast member Cara Keller reads a monologue for auditions.
Written in the 1990s, the play Nicholas Nickleby is based on the 19th-century Charles Dickens novel. The story focuses on the impoverished Nickleby family, specifically young Nicholas, whose uncle Ralph sends him away to an academy. Throughout the story, Nicholas strives to rid the world of certain evils.
The play includes approximately eight musicians under the direction of band teacher Mitchell Wagner.
Eager actors lined up to audition on Sept. 6 and 7. Bookwalter judged 70-90 expectant thespians' preparedness and senses of humor, as well as their "willingness to take a risk with characters or in their bodies," she said. She was also on the lookout for confident actors. In auditions, "people's nerves tend to get really frazzled," she said.
Bookwalter generally casts a couple of freshmen in the fall productions in order to "get underclassmen interested and involved," she said. This year's newbie cast includes freshmen Cara Keller and Jason Alafgani.
As a veteran actor, senior Daniel "Gordo" Johengen showed no nerves at auditions. "I was pretty confident that I would get in, because I have the skills to pay the bills," he said.
Johengen will play the title character, Nicholas Nickleby. "I'm super psyched," he said, attributing his growth as an actor to Bookwalter's guidance. "She is a fine teacher of classical theater."
Senior Andy Rothschild, who will play Mr. Squeers, the leader of Nicolas' school, also praised Bookwalter's direction. "I am the clay, and she is Leonardo Da Vinci ... oh wait, he didn't use clay," he said.