My Bush Rant
I'm appalled (humorous political images) at how easily
the superstitious and simple-minded (hey dittohead morons, can't think beyond sound bites? we'll give you sound bites!) citizens of the USA are distracted (it's still
the economy, stupid!
...and the environment! ...and social justice!) by the warmongers

and their

weapons of mass distraction...

-- hey!

kill your TV! -- Osama's strategy of bankrupting us with an endless war (worked well on the Soviets in Afghanistan)

is working! -- have we forgotten

Vietnam? I still have my draft card

(nope, didn't burn it!) --
Fuehrer Bush (what an abysmal track record) and his corrupt oligarchy cheated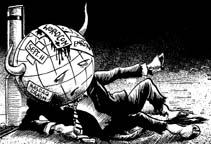 their way into public office, have no compunctions about torture (Garrison Keillor

waxed eloquent), muzzling the press, or subverting elections -- these monsters are capable of

martial law, prison camps, and a dictatorial police state -- see

Naomi Wolf's Fascist America, in 10 easy steps (ok, enough ranting...
ahh, to protest in style like the Italians!), and here we are
demonstrating against Bush... What a mess those monsters made!