---
by Judith Keller
---
"When I was six months old, my parents sent me to China where I lived with my grandmother... for six years... My parents had to live in the U.S... People say the first few years of a child's life [are] the most influential... Well, through the first six years of my life, my grandmother influenced me for the rest of my life."
-- Ruby Choi, a 10th grader at Midwood High School, Brooklyn
"At the age of 17, [my grandmother] got married to my grandfather and has been married for 46 years. My grandfather is an Italian-American just like my grandmother... Loving a grandmother like [mine] is easy because she makes it that way. She is always there with a shoulder to cry on and a voice to comfort. With her around, I always feel safe."
-- Jacklyn Stringham, a 2nd grader at P.S. 63 in Queens
As the school year was coming to an end in spring 2001, "Giving Honor to Our Elders" was the theme of a remarkable, daylong celebration of the talent and creativity of New York City's public school students as they paid homage to their elders through essays, dance, plays, poetry, art, and song. The host for the event, the Joseph Papp Public Theater in Manhattan, overflowed with students, their proud elders, their families and their friends. "Giving Honor to our Elders" was part of the Citywide Arts Initiative program, sponsored by the United Way of New York City in partnership with community-based organizations and elementary, middle and high schools in four of New York's five boroughs (Staten Island chose not to participate). The project director, Danny Morris of United Way, explained that the spark for the theme of aging was the recent book, Elder Grace: The Nobility of Aging by Chester Higgins Jr. (New York City: Bulfinch Press/Little brown 2000) and the accompanying New York Historical Society photography exhibition. (See "Divine Works in Progress: The Elder Grace of Chester Higgins Jr.," Aging Today, January-February 2001.)
---
ESSAY CONTEST
A highlight of the day at the Public Theater was the presentation of awards to winners of the "Elder in My Life" essay contest. The awards were presented by elders from the community and from a panel of older judges. Each borough honored four top winners who received $200 and a medal. The judges also awarded three citywide honors: $1000 for first place, $750 for second, and $500 for third.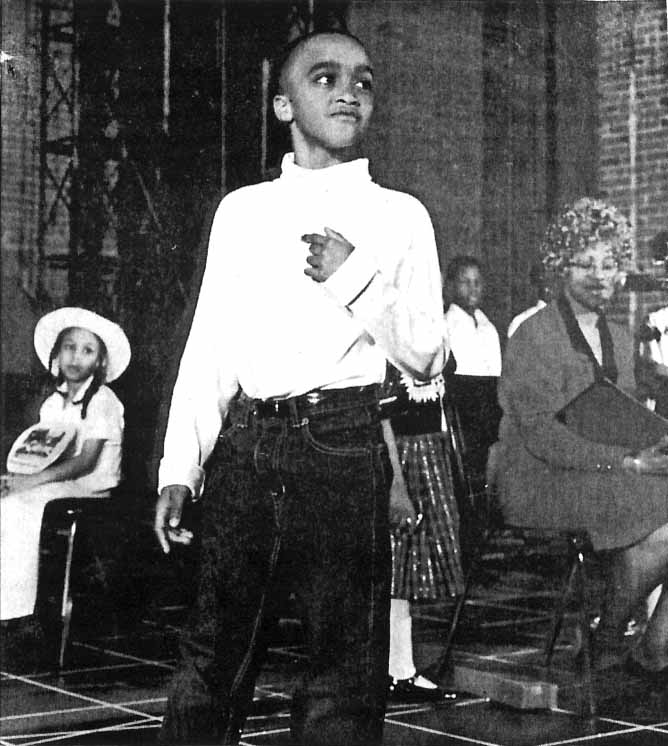 During the "Giving Honor to Our Elders" celebration in spring 2001, Chris Rambaran, a student at PS 109 in Brooklyn, N.Y., portrayed poet Langston Hughes in a tribute to elders titled "Thanks for the Memories."
Judith Keller is a playwright and an award-winning film and video maker of short dramas for staff and residents in long-term care and for students in gerontology. She heads Tricepts Productions in New York City. Among her productions is Rose by Any Other Name, about an older woman's search for closeness, privacy and love in an institutional setting. Visit her web site at www.tricepts.keller.com.
For information about "Elder Grace: The Nobility of Aging" the traveling exhibition of portraits by New York Times photojournalist Chester Higgins Jr. that inspired the "Giving Honor to Our Elders" program, visit the web site of Thomas and Associates at www.artstaffing.com; click on "Traveling Exhibitions".
THE MANUAL
For schools and community organizations wanting to replicate the "Elder in My Life" essay contest, organizers from the United Way of New York City share the following information learned from their elder celebration.
To increase the quantity and quality of student participation, teachers must be directly involved. Working through school superintendents is not enough.

To have the material incorporated into classroom curricula, organizers must meet with teachers. The program offers an opportunity to expand students' communication and writing skills.

Give teachers ample lead time.
To order the "Elder Grace Teacher Resource Manual" and related materials, contact the New York Historical Society Education Department, 2 West 77th St., New York, NY 10024-5194; (212) 873-3400; Web: www.nyhistory.org.
Sixth-grader Amaudis Heredia of Bronx Middle School 222, took third place citywide by writing "My Grandma Rocks!" about his grandmother in the Dominican republic (grandmothers were the students' most frequently-chosen subjects with grandfathers a not too close second.) The essay contest did not merely ask students to extol their essay subjects. Teachers were given a resource manual that the New York Historical Society prepared; the object of the contest, the publication stated was "to bring the subject of aging into the classroom and allow students to consider the importance of older people in their lives." In classrooms for example, the students learned interview techniques to use in questioning their chosen elders.
According to the manual, the rigorous competition rules were designed to "build intergenerational ties and enhance academic skills." Areas to be covered in no more than four typed, double-spaced pages were place of origin, family background, family life, civic values, life attitude, and the elder's impact. The essays had to be submitted in commonly readable fonts and 14-point type, presumably in consideration of the elder judges' eyesight. Students had to include a four-by-six inch (jumbo snapshot-size) photograph along with the essay. The judges were given score sheets on which they could award a maximum number of points for each topic area and additional points for organization, sentence structure, word choice, punctuation and spelling. Each submission was scored by at least three judges.
Several judges said their job wasn't easy. Some of the most passionate and captivating essays were the most difficult to evaluate strictly by rigid rules. Many students were recent immigration with English language difficulties. Fortunately, there was a space on the score sheets for judges' comments.
The first-place citywide winner was Jorge Taveras, a 6th grader at Bronx Middle School 222, who wrote about his 107-year-old Dominican great-grandfather. Here are excerpts: "After hearing his age, you might imagine a crippled and senile old man... He is just the opposite... The house he grew up in was made out of wood or straw, and it had a zinc roof... There was no electricity or running water... To get water, my great-grandfather would go on his horse with a bucket to a nearby river. Then he would walk with the horse, [with the] full bucket of water on the horse's back... There was no such thing as Toys R Us... They made their own toys out of wood or straw...
"My great-grandfather never went to school... Those who attended school were usually the rich... [He] never learned to read. But he was very astute when it came to business matters... When I asked him if he would change anything from his life, he answered, 'No, I have lived 107 years and have learned many important things. I would have to be born again to get this wisdom.' He has a favorite saying, 'Mas sabe el diablo por viejo que por diablo.' (The devil knows more through age than through being a devil.)"