Divine Works in Progress: The Elder Grace of Chester Higgins, Jr.
by Judith Keller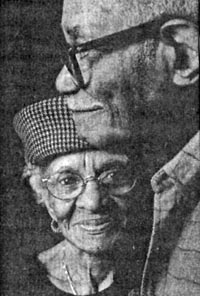 Photographer Chester Higgins Jr. eloquently titles his new book Elder Grace: The Nobility of Aging (Boston: Bullfinch Press/Little, Brown, 2000; hardcover, 128 pages; $40). This handsome volume includes sparkling photographs of 80 mostly ordinary elders, along with their extraordinary thoughts on aging. Higgins' use of lighting creates a tactile, sensual feeling to the images. Readers will want to hold the book close and embrace these "divine works in progress."
In her foreword, Maya Angelou writes of the portraits, "Their resolute faces attest to the mountains climbed and the rivers forged. The somberness of their eyes is evidence of . . . demons . . . faced down . . . and despair . . . overcome. And then there are those smiles. Hallelujah for those smiles. They tantalize, 'Don't you wish you knew what I know' and 'I've been there and did that before you ever knew there existed.' The smiles assure, 'Continue. Continue. You will work it out.' The smiles reassure, 'Life is worth the living of it. Do it with your whole heart.'"
Higgins writes in his epilogue, "Most of us have a fear of the natural process of growing old. None of us knows how we will fare, what loved ones will be with us, or who will leave us behind. In spite of all this, some of us miraculously blossom, seasoned by years of living. . . . These are the people, like the elders I grew up among, who have a saying, a thought, a wish or advice for all who take time to listen."
The portraits express Higgins' conviction "that aging should not be regarded as an affliction. It is a stage of life, like all others, that deserves to be celebrated and documented in all its natural grace and beauty." This is not a Pollyanna version of aging, though. Drawbacks are acknowledged and difficulties are expressed in both the inner portraits and the inspired text. Elizabeth P. Jones, a domestic worker and singer who is photographed in the book, states, "Trouble never looks sweet, but what comes out of it can be unexpectedly sweet." Anthony Perkins, a construction worker, advises, "Write your problems down, then look at the list a year from now, and see how time has changed them."
The subjects are older and African American, yet this book speaks not only to us white-haired folks but to all young and old of every origin. Respect for the wisdom of elders is a legacy of black culture. Higgins recalls, "I first picked up a camera in 1967 to photograph two older relatives, my great uncle March Forth McGowan, the man to whom I dedicate Elder Grace, and his sister, my great aunt Shugg Lampley. Raised in the culture of a small town of 600 people in southeast Alabama, I was taught to respect older people."
Miriam B. Francis, a subject in Elder Grace, seconds the thought, observing, "If we do not honor our ancestors, there will be no one to honor us."
Elder Grace encourages us not to remove our creases, bags and sags and color our gray hair, but rather to respect our maturity. These portraits of everyday men and women reflect their accumulated wisdom. When asked, "How do you photograph wisdom?" Higgins said, "Like a work of art. Aging gracefully becomes a work of art." Among these everyday works of art are homemakers, historians, artists, domestic workers, musicians, seamstresses, teachers, factory workers, civil servants, lawyers, nurses, writers and chauffeurs.
"Elder Grace: The Nobility of Aging" also is a traveling exhibition that recently opened its initial run (through March 4) at the New York Historical Society in Manhattan. There I saw a young white woman cry as she lamented her loss during the many years she did not contact her grandmother. Two Asian photography students were studying how Higgins lit his subjects. An African American man in middle age was writing down the comments mounted with the photographs that resonated with him. Standing there surrounded by the lustrous, larger-than-life photographs, I, a 75-year-old, white-haired white woman, felt securely embraced by the wisdom, grace and nobility of my peers.
Judith Keller is an award-winning film and video maker. She heads Tricepts Productions in New York City. Visit Keller's website at www.trcepts.keller.com.
"Elder Grace: The Nobility of Aging" is also a traveling exhibition by Chester Higgins Jr. For information on the exhibition, consult the New York Historical Society website, www.nyhistory.org or contact Stuart Desmond,212-873-0509, or email stuartd@nyhistory.org.
---



American Society on Aging
833 Market St., Suite 511
San Francisco, CA 94103
http://www.asaging.org/
info@asaging.org