RESIDENTS COUNCILS:
A VOICE FOR QUALITY OF LIFE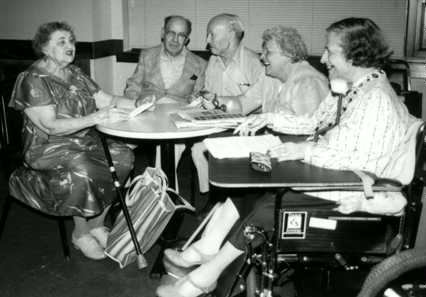 "The committee recommends no smoking in the dining room or elevators."
| | | |
| --- | --- | --- |
| | Residents Councils: A Voice for Quality of Life is a video about self-determination in a long-term care facility. It promotes the confidence residents need to speak up for themselves and monitor their facilities. Upbeat and empowering, the video follows a spirited resident council meeting. Residents report on their committees, debate new issues and propose solutions concerning menus, medications, smokers, staff attitudes, and resident participation. The role of the staff advisor is clearly portrayed. | |
Residents Councils: A Voice for Quality of Life teaches about life in a long-term care facility.

Audiences

residents and their families
staff development
ombudsmen
volunteers
social workers
administrators
community organizations
students in gerontology, nursing, social work, medicine, administration, recreational therapy, psychology, nutrition
What the experts are saying:

"BELONGS IN EVERY NURSING HOME... Empowerment of people, especially the most vulnerable, is a noble venture."
--Msgr. Charles Fahey, Past President, American Society on Aging; Director Third Age Center, Fordham University

"BROUGHT UP POINTS FOR MY COUNCIL"
--Emmett Burbrink, Nursing Home Resident, Indiana

"CHALLENGE[S] THE STATUS QUO."
--Sister Mary Gregoria Rush, Ombudsman, Tampa

"TEACHES CONSTRUCTIVE LIVING AND HEALTHY INDEPENDENCE, even when illness and dependency... require residential health care."
--Shura Saul, Ed.D., ACSW, Bronx North-Manhattan Coalition for the Elderly

"CONVEYS THAT OLDER PEOPLE CAN TAKE POSITIVE ACTION for the direction and control of their lives."
--Herbert Shore, Executive V.P., Dallas Home for Jewish Aged, Dallas

"DEPICTS RESIDENT PARTICIPATION IN ITS MOST CREATIVE FORM..."
--Elma Holder, Executive Director, National Citizens Coalition for Nursing Home Reform

"DEMONSTRATES HOW RESIDENTS AND STAFF CAN INTERACT PRODUCTIVELY."
--Ron Adelman, M.D., Mount Sinai School of Medicine, New York

"EDUCATIONAL AND ENTERTAINING... VALUABLE TO ANY NURSING HOME..."
--Louis Remily, Department of Health and Social Services, Wisconsin


The Coalition of the Institutionalized Aged and Disabled is a non-profit New York State organization of nursing home and adult home Residents Councils dedicated to improving the quality of life in long-term-care institutions.
---
[ To Order ] [ Tricepts Home ]

Copyright © 2011