WOMAN: Who Is Me?
A film about images of women through the ages
by Judith Keller, Shirley Joel, Shula Wallance
[Opening frames]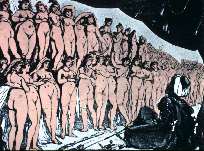 "I have been ogled...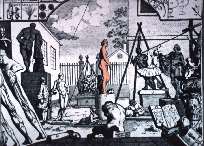 I have been examined...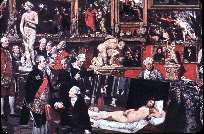 I've been inspected and collected.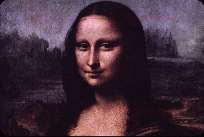 I've been scrutinized... analyzed...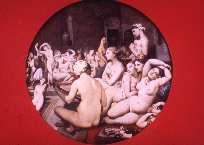 ...psyched out from every aperture, angle and orifice."
WOMAN: Who Is Me?

provides a jumping-off point for a broad exploration of both contemporary and historical societal issues relevant to women's studies.




WOMAN: Who Is Me?

is about the myths, legends, and stereotypes of women (and men) that have endured through the ages, perpetuated by significant Western art and other visual media of every era. While Western art rarely portrayed women of color, the issues apply to all women.




WOMAN: Who Is Me?

is not a polemic. The film does not "put down" the art. It examines how each period's culture and perceptions are reflected in its media and how this has influenced attitudes toward women and women's attitudes toward themselves. The media may change but the myths persist.




WOMAN: Who Is Me?

underscores "how terrifying it is for a man to be omnipotent savior and protector". The narration by noted actor Anne Jackson is both witty and wise. Animation techniques create a visually provocative and topical film.




Key themes emerge: Voyeur, Confused Images ("Good Girls/Bad Girls", Saints and Sinners); Odalisques; Changes in Body Styles; Vanity and Judgement; Advertising; Stereotypes of Men; Violence. Many of the film themes overlap.
Format
1/2" VHS video and DVD
Length
11 minutes
Study Guide
12 pages, illustrated
Documentation
available
ISBN 1-879015-02-1


Study Guide Cover

Sample Page
"Stunning... Soul-searching... A sex-role gallery walk."

"...forms a stunning point-counterpoint to the varieties of ways in which women have been framed, literally and figuratively."

"...provide[s] an opportunity for soul-searching, questioning, and discussion for both sexes."

"...bound to start a heated discussion."

"Any women's group, college, high school or professional school class in human sexuality, psychology or sociology would be much enriched by the sex-role gallery walk."

Journal of Sex Education and Therapy, Media Review
— Barbara Barnum, Ph.D., Southern Illinois University, and
— Beverly Hotchner, Ph.D., Director, Center for Human Concern, St. Louis
"People have always been promoting parts of me... Issuing decrees about what shape I should be... but different in each century..."
Screenings and Collections (partial list)

National Public Television
Museum of Modern Art, New York City
National Women's Studies Convention
National Art Education Association
Women's Film Festival, "Images of Women"
Women's Film Collective, The Netherlands
Department of Human Development & Family Studies, Cornell University
Planned Parenthood
Equitable Life Assurance Society
World Council of Churches, "Status of Women," United Nations, Geneva

Production Team

Judith Keller, Producer
Shirley Joel, Writer
Candy Kugel, Director of Animation
Shula Wallance, Designer
Anne Jackson, Narrator
Manny Albam, Composer

Audiences

College

Orientation Courses
Psychology
Sociology
Human Sexuality
Mythology
History of Art
Women's Studies

High School

Social Studies
Sex Education

Organizations

Civic
Religious

Business, Industry, Trade Unions

Sensitivity Training
Job Training
Affirmative Action Programs
---